Architect, designer and mother of a beautiful child, born in 1984, lives and works in Salento. Graduated from the Faculty of Architecture Valle Giulia "La Sapienza" in Rome, she carries out her freelance profession dealing in particular with the recovery and restoration of historic buildings and traditional Apulian architecture. Her projects have been exhibited at the Festival of Creativity in Florence, at Homi Milano and at the Universities of Architecture of Vilnius (Lithuania) and Thessaloniki (Greece). In 2014 she was selected by the Puglia Region among the best Apulian designers under 35 with the Alcoloured drinks lamps, which in August 2016 the weekly Panorama selected and published in their special dedicated to design, curated by Valentina Pepe.
Architect and designer, born in 1970, lives and works in Orvieto, in the heart of Umbria. Graduated from the University of Rome "La Sapienza", after the first years of activity characterized by various collaborations with some architecture and engineering companies, he opens his own professional studio in the Umbrian city. He works as a freelancer, with particular interest in architectural design, restoration, recovery of historic buildings and industrial design. He collaborates as a designer with various Italian companies, with experience in the ceramics and adamantx sector.
Davide Ugolotti, born in 1979, lives and works in Emilia Romagna where he deals with the design and computerized modeling of coatings and furnishing accessories in stone materials. Specialized in the use of machining centers and anthropomorphic robots for glass and stone processing, he collaborates with various Italian design companies for the creation of limited edition collections. He has been collaborating with Sguariu since 2015.
Born to a family of carousels and raised among pistons, resin glass, high volume music and colored lights, class of 82.
Having lived for part of her life in a caravan, limited in tight spaces, she developed the sense of "optimizing" environments since she was a child and making them minimal and functional. Continuously traveling from from one country to another, from in Salento up to the Emirates. the interest in any form of beauty, art, culture rose.
Graduated as an interior designer, she undertook a degree course in industrial design at Sapienza university in Rome, later she devoted herself to graphic arts and photography and worked as product manager for Versace Young. Extremely curious to know and to improve learning, jumping from one thing to an other by learning everything possible about the production processes of whatever interested her.
All this sums up to an unscrupulous lover of craftsmanship, of natural, sustainable materials and unique pieces, of "conscious" production that of low numbers, so much so that he conceives and creates in first person, handmade, ceramic artefacts with unprecedented shapes , poised between rural and modern.
She has been happily collaborating with Sguariu since 2019.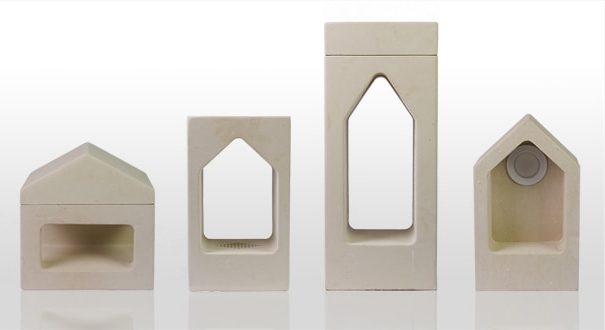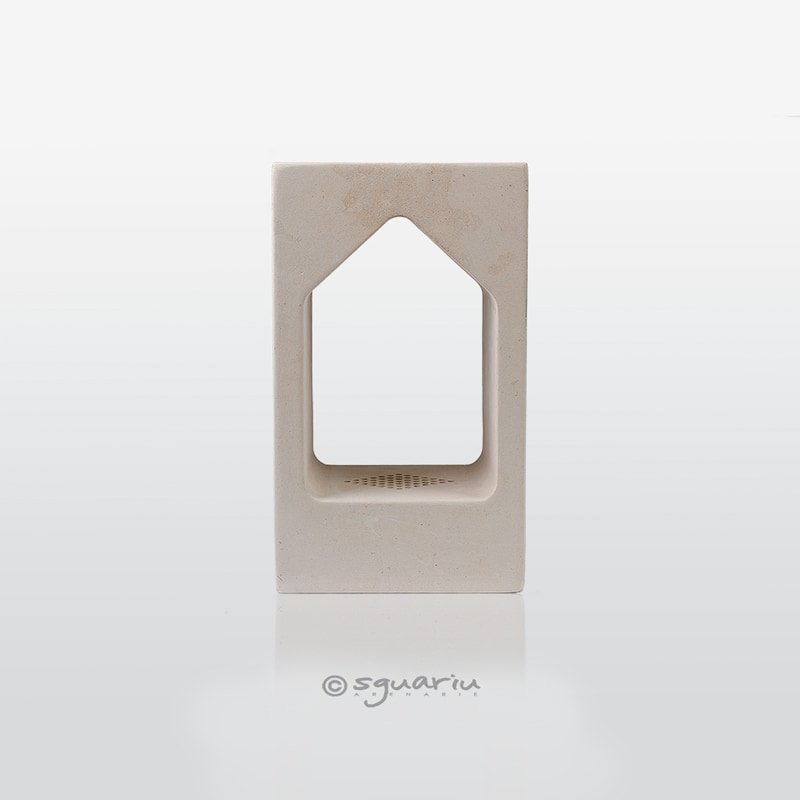 Collection Borgo Sannicola, 5 outdoor lamps designed by Virginia Pisanello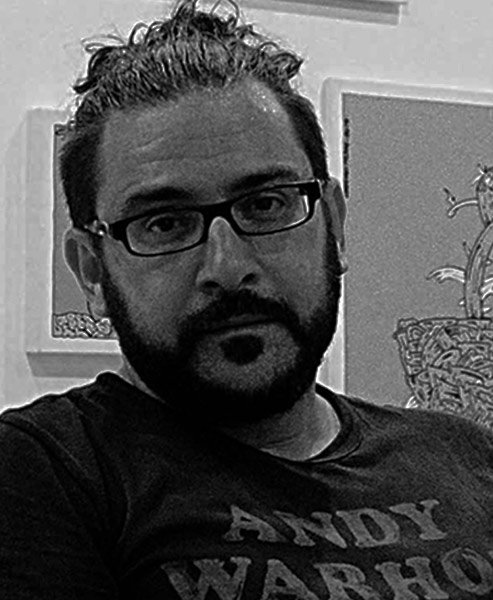 Painter, illustrator, live painter, he created live painting performances for Negrita, Marta sui Tubi, Le Luci della centrale electricity, JoyCut, Esquelito, Andrea Mi, Finaz (Bandabardò), Roberto Angelini and at Macro in Rome, Mandela forum in Florence , Piper Club, Circle of artists, MAT, Link of Bologna, IED of Florence, Medimex, Festival of Creativity, Metarock, SEI, Fuck Normality Festival. He created the illustrations of the Negrita cd "Helldorado", working for Irma Records, Alfa Romero, Elastica, Soul Love, Arroyo and magazines such as Il Mucchio, Collettivo Mensa, Arbiter, A Levante, Lungarno, Todo. He has worked for brands such as Uniposca Coloring, Red Bull, Swap Museum, Caparol Italia. The book "Keith Haring in Pisa" Chronicle of a mural, ETS editions, defines him as one of the heirs of the sign of the American painter. He has exhibited his works throughout Italy and abroad. After twenty years in Pisa he currently lives in the Salento countryside.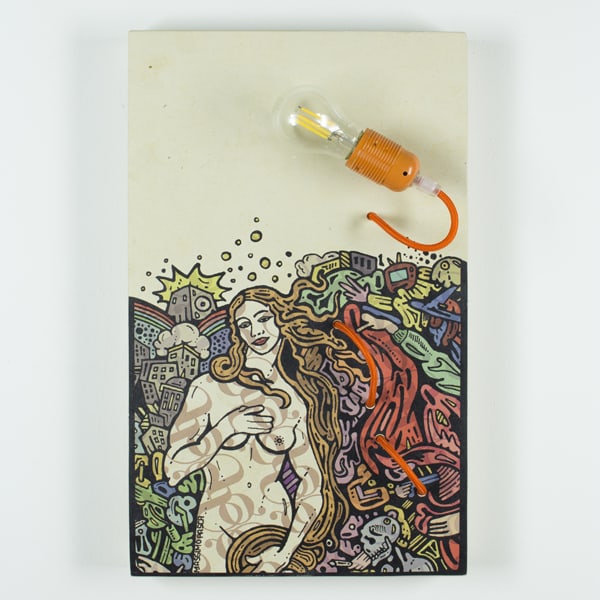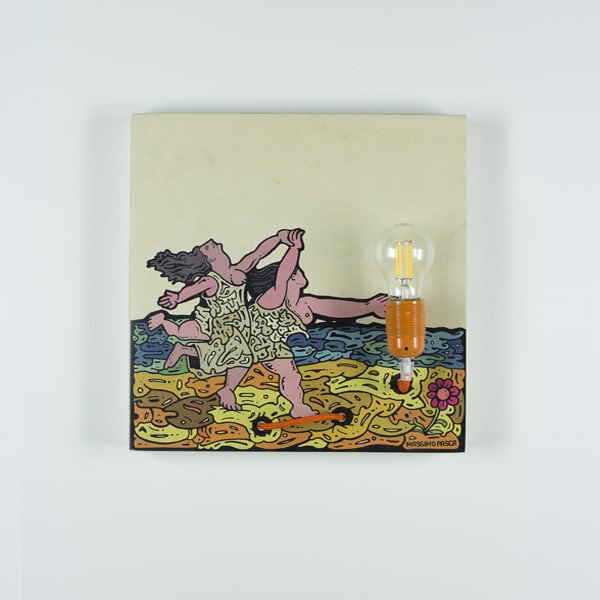 Interpretation of "Dos mujeres corriendo por la playa" and "Nascita di Venere" from our artist Massimo Pasca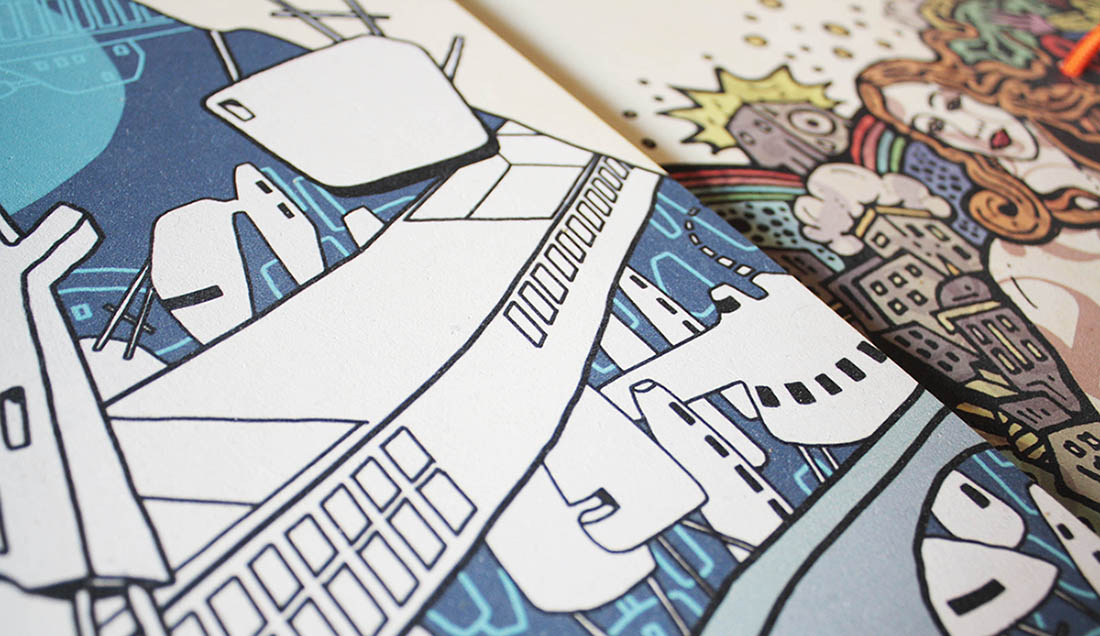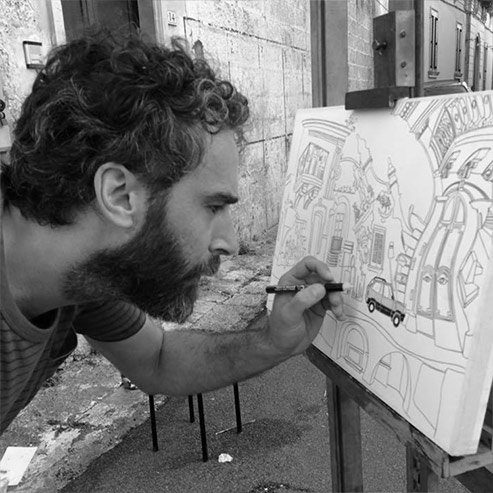 Architect and visual artist, born in 1976, lives and works in Salento. He deals with micro-architecture and temporary architecture, selected for the Salento Architecture Monitoring 2010 exhibition at the Casa dell'Architettura Acquario Romano with the Micro-K nomadic laboratory prototype. In 2010 he founded with a collective of architects and artists, the architecture, art and design laboratory AFA architects in a farm, based in Lecce. He has collaborated with Sciatto Produzie (Francesca Iovino, Valerio Bindi), Francesco Spada, Toti Semerano, Manifatture Knos. Since 2013 he has started the visual art and design project Apofire, a pyrography and tattoo meeting with exhibitions in London, Rome, Milan and Florence. Since 2010 he has exhibited and performed in live paintings with automatic drawings of surreal landscapes.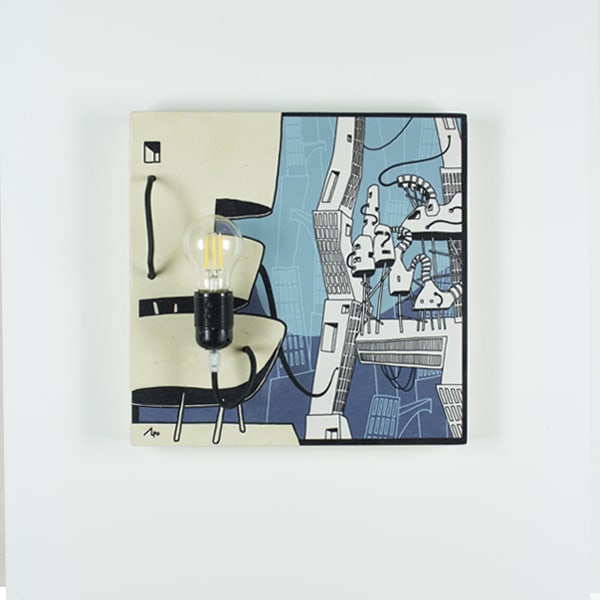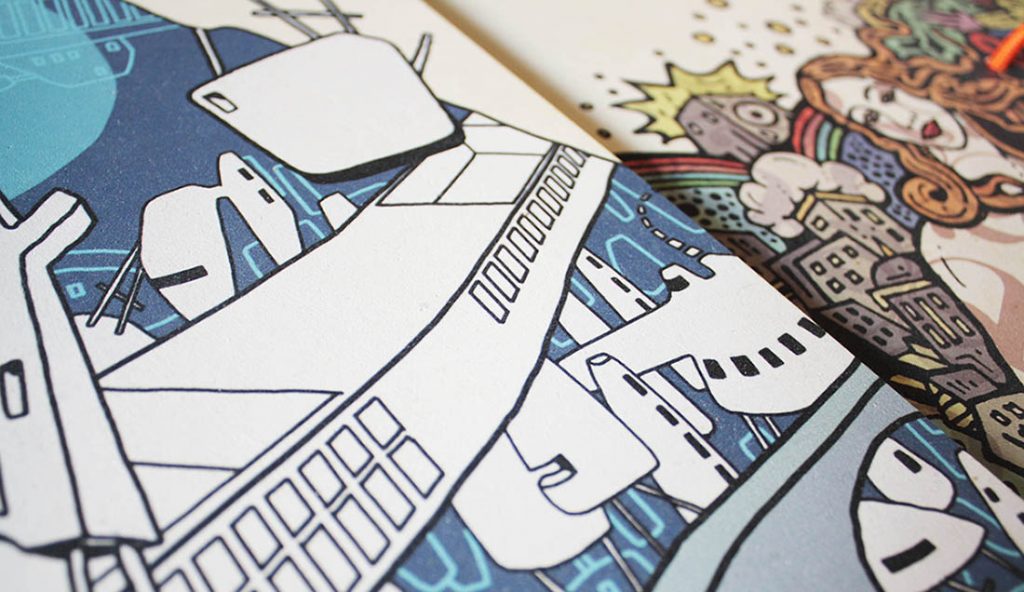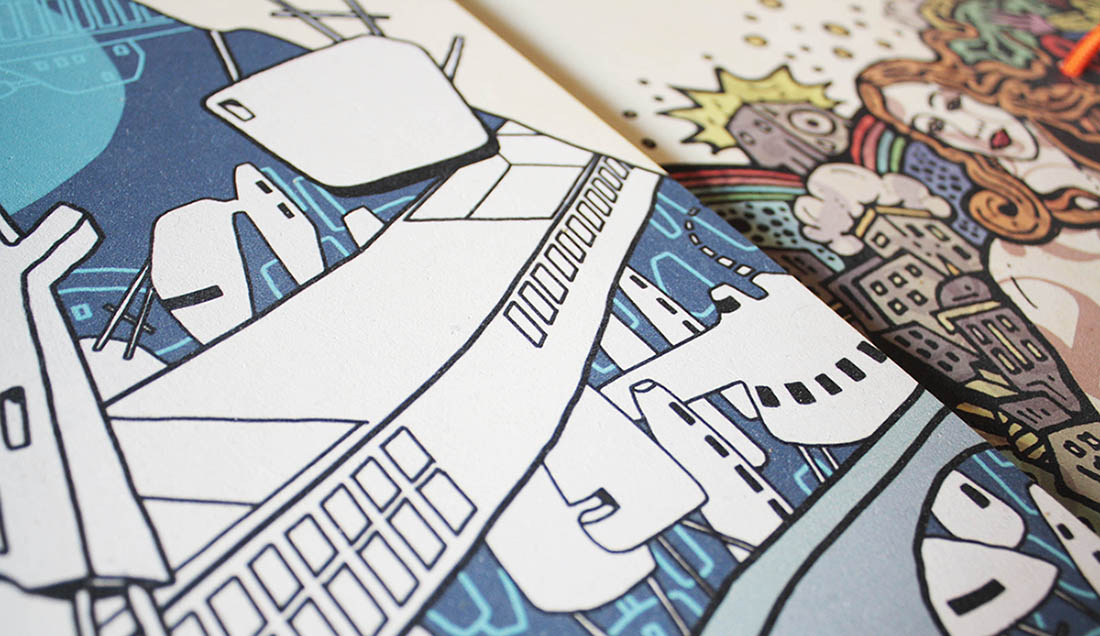 Surreal landscapes in 2 lamps designed by Giuseppe Apollonio.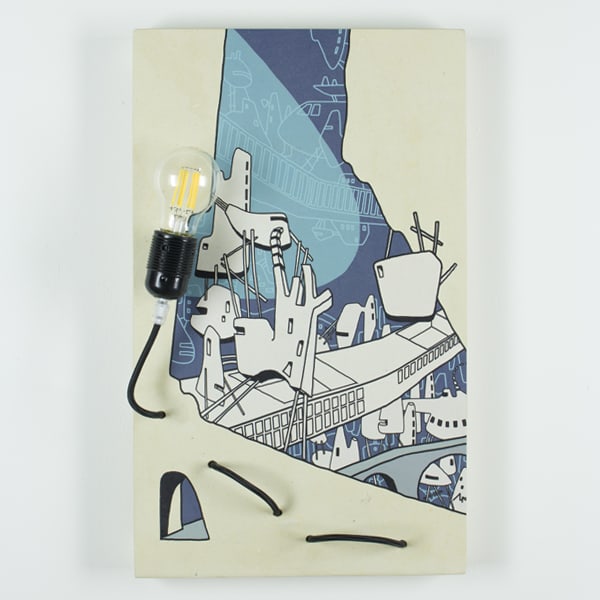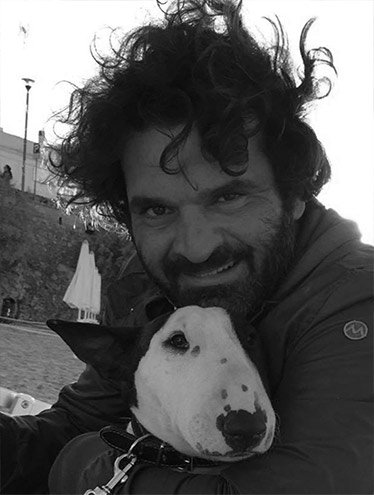 I am convinced that what can be born from the union of two or more people has no boundaries. My friends above are proof of that. Thank you all!
"Double face" aka "Diana", female bull terrier born in 2015, soul and mascot of the Sguariu creative laboratory (however she is only interested in treats).